Jeremy Corbyn: I would not use nuclear weapons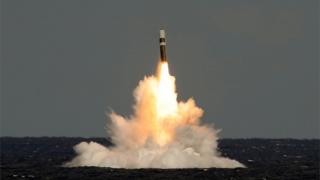 Labour leader Jeremy Corbyn has said he would not use Britain's nuclear weapons if he were prime minister.
Speaking to the BBC the morning after his first conference speech as leader, he repeated his position that Trident should not be renewed.
"We are not in the era of the Cold War any more; it finished a long time ago," he told BBC Radio 4's Today programme.
Asked if he would ever press the nuclear button if he was prime minister, Mr Corbyn said: "No."
"I am opposed to the use of nuclear weapons. I am opposed to the holding of nuclear weapons. I want to see a nuclear-free world. I believe it is possible," he said.
The Labour leader also told the Today programme he believed he could be prime minister.
And he defended the lack of coverage of the deficit and immigration in his speech to Labour party conference, saying he was "setting out some general philosophical ideas" rather than policy details.
'Nuclear-free world'
In his conference address on Tuesday, Mr Corbyn said his landslide leadership win gave a "mandate" for his views on disarmament of Britain's nuclear weapons.
But a large number of his shadow cabinet, including defence secretary Maria Eagle, and many Labour MPs do not support his position.
Labour is to hold a review of defence policy, which will include future nuclear capability.
Mr Corbyn told Today: "I do not think we should be renewing Trident. I think we should be fulfilling our obligations under the Nuclear Non-Proliferation Treaty.
"I think we should be promoting an international nuclear weapons convention which would lead to a nuclear-free world."
Spending "£100bn" on replacing Trident was misguided, he said, arguing that many in the military wanted the money to be spent on more "conventional" equipment and forces.
He also said the money could be used to protect the "high-skilled jobs" that make the Trident weaponry and vessels.
'Not the only issue'
The Labour leader said there were five declared nuclear weapon states in the world and three others that had nuclear weapons.
He added that 187 countries "don't feel the need to have a nuclear weapon to protect their security", and asked "why should those five need it themselves?".
When pushed by Today presenter Sarah Montague on whether there would be any circumstances he would use the nuclear option, he said: "No."
Mr Corbyn said he was aware of the different views among his shadow cabinet, but also pointed out a large numbers of supporters "were prepared to vote for me knowing full well what my position was on nuclear arms".
He rejected that the defence review was pointless given his position, saying "nuclear weapons are not the only issue in defence".
Trident is the UK's sea-based nuclear weapons system – made up of submarines, missiles and warheads.
While the current generation will not begin to end their working lives until some time in the late 2020s, work on a replacement cannot be delayed because of the time it will take to complete.
A decision on whether to renew Trident is due to be taken in 2016.
This entry passed through the Full-Text RSS service – if this is your content and you're reading it on someone else's site, please read the FAQ at fivefilters.org/content-only/faq.php#publishers.